With the AWC I describe my role as embedded – by which I mean – I am here as a working team member as well as artist – I now have an expanding range of animal, insect and lizard handling, trapping and general building skills and camera trapping skills – which like any other crew member Im expected to use. In essence there is a survey to do and everyone who comes out to this remote spot is crew – this being the third year I believe that they have spent trying to determine what moves through this extraordinarily large property (1.6 million acres) :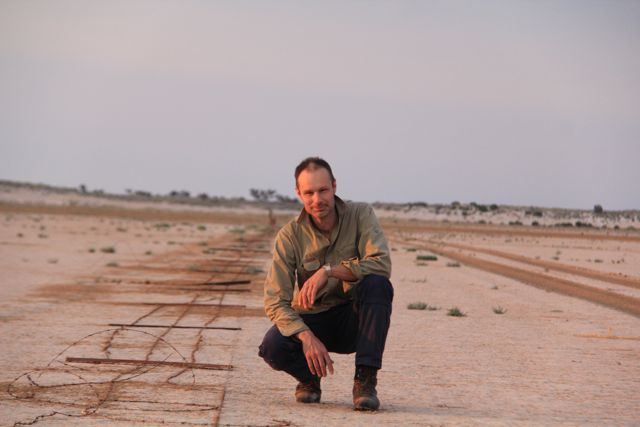 I join teams each day – leaving before dawn to go out and check the traps that have been set (to pick up the creatures of the night – premominantly this season the long haired rat and a range of insects and geckos. My roles have included emptying the pitfall traps (tubes in the ground at the end of long fence runs – into which the animals and insects and lizards fall to be picked up checked, recored and released). We also trap in funnel traps – which landed us a decent sized snake – and we also check for mammals in elliot and cage traps. We do the same in the evening to pick up creatures of the day – in this case predominantly lizards and insects – these have been in diverse country including dunes, claypans, gibber plains and riverine woodlands. We work in three day rotations – which include the setting up of the sites – requiring digging, building and so forth – all team work – often in the heat of the day (its moved between 20 degres and 38 with clear skies, dust storms and lightning strikes since arrival .. ) ts hard work at times – but most often a lot of time is spent in the 4WD trips to get places – as the country is rugged and the roads are in many places really more rough tracks.
What this all creates is a very close culture – a tight community of scientists and researchers and the station managers – all working together to ensure logistics and data get collected. Each night the database is filled with the information from the days sheets – there are things as diverse as lizard lengths, mammal foot sizes, bird surveys, vegetation surveys, numbers of insects (beetles/bugs/scutigera, millipedes … caught in the pitfalls). Dingoes patrol the night and the morning and camera traps also reveal feral cats and foxes as well as the rabbit. All have to be controlled.
And all along the way I get chance to talk to everyone and progressively learn more about the cultures of ecological science – how people think their way through problems, why they make the decisions they do, what and where their sense of the big picture is: where the pervasive culture of observance, measurement, counting, careful scanning the landscape, observation and process (setup, establish, packdown move on) fits into their own philosophical positions.